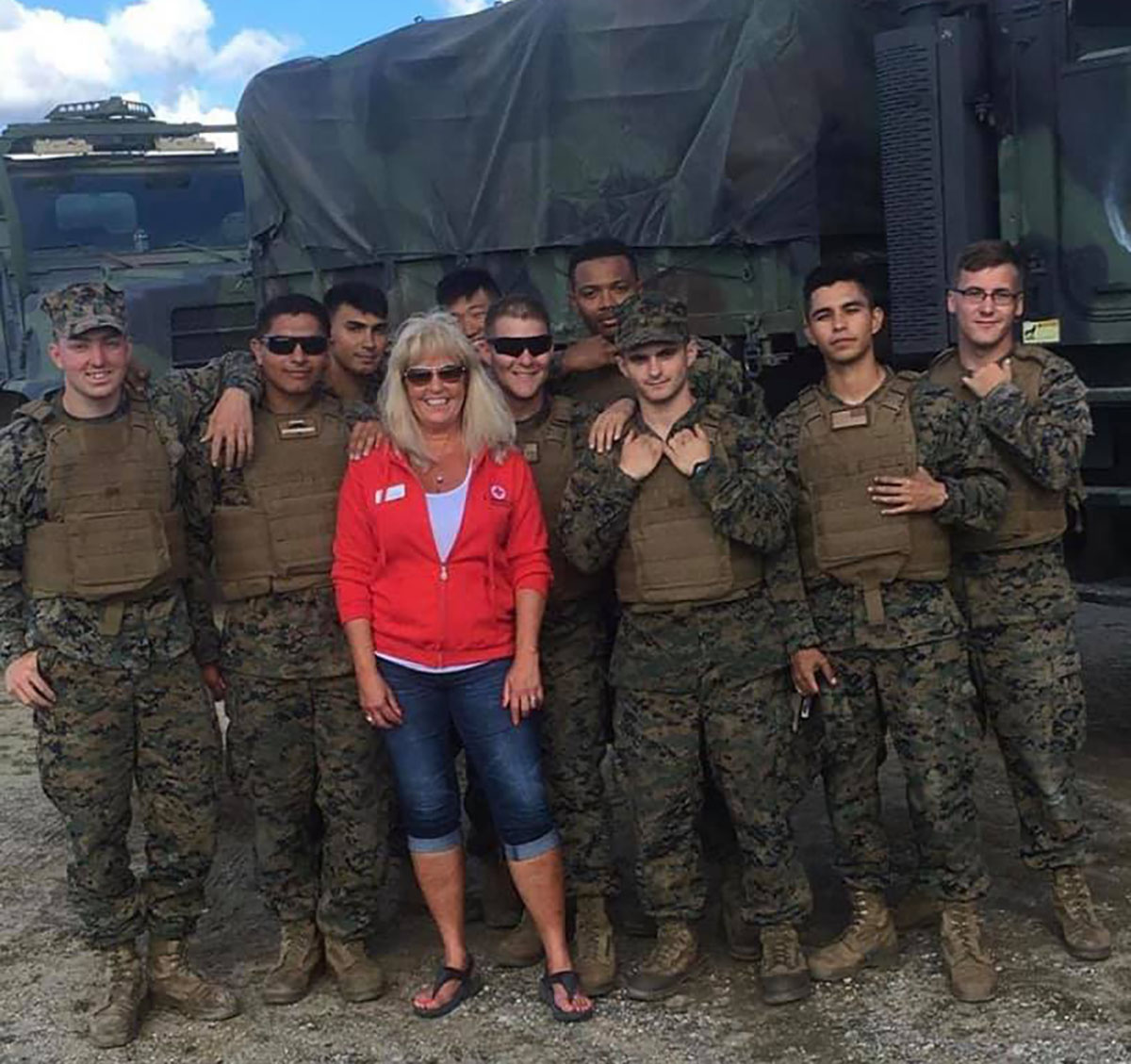 Debra Ankerson – A Pillar of Support For Those Who Serve 
By Karen Rieser
Passion, defined as an intense desire or enthusiasm for something, describes Debra Ankerson's relationship with our nation's Armed Forces. For the last ten years, Debra has served our country stateside as a volunteer under a plethora of titles supporting U.S. veterans and troops. Debra's journey weaves a tale of commitment, loyalty, honor, and sincerity.
Debra's respect for our men in uniform was instilled in her by her father.  During her freshman year of high school, the Vietnam War was still going strong.  As with many young people, Debra wore bracelets with the names and rank of boots on the ground soldiers as a daily reminder of U.S. troops in harm's way.  She remembers faithfully sitting with her father in front of the television reading each name of the soldiers killed in action that day as they scrolled up the TV screen. These daily readings entrenched in Debra the realization of the tremendous sacrifice these men were making for the country in which she lived.
Civilian service with the Armed Forces began with Debra's appointment to chair the Veterans' Programs Committee through the Elks Club.  As chair, she was responsible for finding and vetting veterans organizations deserving of financial or moral support. One of the many events Debra created was a Coast Guard Christmas celebration. Each Traverse City Coast Guard family received a ham or turkey for Christmas dinner. Debra was then asked to be the liaison to Operation Homefront, a large national organization that asks local families to buy toys for military families. At the next Christmas events, the families received not only Christmas dinner baskets but toys for the children. After three years with the Coast Guard, Debra moved the event to Northwestern Michigan College, supporting 242 combat veterans and their families.  Later the event was moved to Camp Grayling and then back to the Coast Guard for two years.

It was not long before Debra's talents were again recognized. She was asked to be a caseworker for deployed troops with the American Red Cross Service to the Armed Forces. As a Red Cross caseworker, Debra's job was to take care of the deployed soldier's family stateside. Upon receiving word that there was an emergency in a troop's family, Debra would verify the report and contact the Commanding Officer. The Officer would then decide on the action to be taken. Most emergencies involved the death of a loved one; however, some joyous events, such as a child's birth, would occur. If a troop was given permission to return home, Debra would make arrangements for financial aid (if necessary), transportation, lodging, and family time. Little did Debra know this position would lead her to be involved with a myriad of support services enriching her passion for serving.
There is not enough space to discuss each program Debra was involved in, so a list will have to suffice. She began as the Elks NW District Veterans Chair, through which she became a Grand Traverse Area Veterans Coalition member. Then she was asked to spearhead the American Red Cross Service to the Armed Forces as a caseworker for deployed troops. Next, she was appointed liaison to Operation Homefront. Also, Debra sat on the Northern Michigan for Veterans Board. She became the Department of Defense lead volunteer at the VA hospital at Iron Mountain. Debra also served on the Traverse City Patriot Game Board, chaperoned two Honor Flights to Washington D.C., and worked as the American Red Cross liaison to Gold Star Mothers. Of all the volunteer positions Debra held, being the liaison to Gold Star Mothers was her most rewarding one.
To move from a Blue Star Mother to a Gold Star Mother, the family must have lost a child (killed in action, in combat, or certain military support operations) during their military service. It was the ultimate sacrifice for the troop and family. Debra's job was to support each Gold Star Mother and her family.  Some of her responsibilities were to secure lodging for guests, engage a speaker, arrange for meals, set up transportation, provide security using Rolling Thunder, and attend the funeral. If the family needed it, Debra made it happen by pulling from every resource she had.
With every Gold Star Mother experience, emotional bonds were formed between Debra and the family. On her own, Debra keeps families in touch with one another. She has created a Gold Star room in her home on Elk Lake in Elk Rapids for Gold Star families to come to when they need time to regroup. The family has an opportunity to stay in a peaceful environment free of charge for as long as they want. The Gold Star room is used frequently and confidentially.
Debra has received several awards honoring her service. She is proud of each one. However, the dozen or so Challenge Coins she received from high-ranking brass mean a great deal to her. Challenge Coins are private awards, an award without ceremony.  The coins are distributed by one high-ranking officer to another as a sign of a job well done.  For a civilian to receive a Challenge Coin, it is an incredible honor. Debra also received the Cherry Wings Award from the Coast Guard Air Station Traverse City, the 2018 Veteran Supporter of the Year Award from the Grand Traverse Veteran's Coalition, the Distinguished Service Award from the Red Cross, and a medal to be pinned on her jacket from the Veterans of Foreign Wars for Distinguished Service.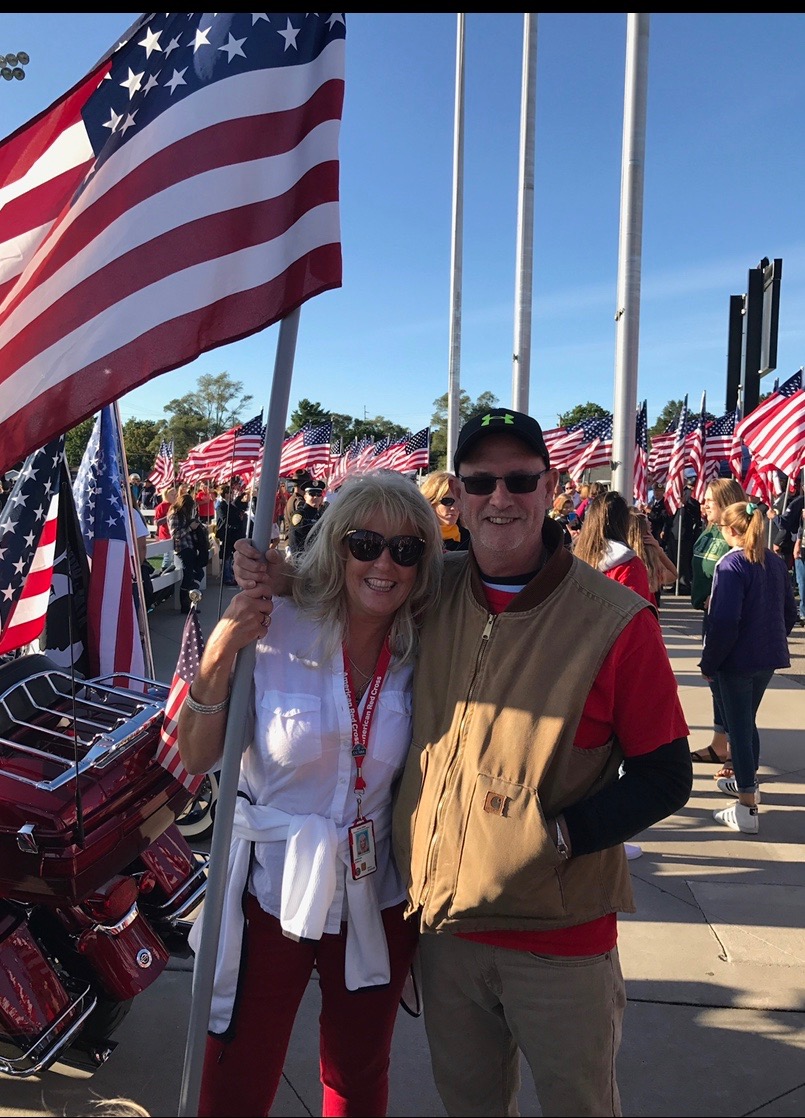 Debra's retirement has left a considerable void in Veterans' services in terms of effort, love, and imagination. As a nation, we salute you, Debra Ankerson, and know you will never be truly absent as those you helped will carry on with a bit of your love in tow.
For printed copies of GATHER Veterans, please click here –> Subscribe Today