American Foundation for Suicide Prevention
By Amanda Renkiewicz – Photos from the Traverse City Out of the Darkness Walk Coordinators
It's a shocking fact: each year, suicide claims more lives than war, murder, and natural disasters combined. Despite that, funding for prevention efforts for suicide was minimal for years. In 1987, the American Foundation for Suicide Prevention was formed to understand and prevent suicide through research, education, and advocacy. Their mission is to save lives and bring hope to those affected by this tragic loss of life. Though September is officially dedicated to Suicide Prevention, the AFSP works continuously year-round to provide resources and help for those in their darkest hour.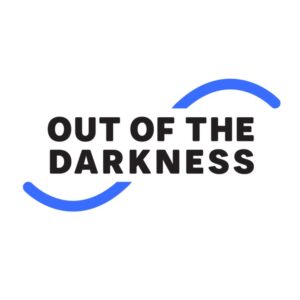 The AFSP creates a culture that's smart about mental health by engaging in the following core strategies:
Funding scientific research
Educating the public about mental health and suicide prevention
Advocating for public policies in mental health and suicide prevention
Supporting survivors of suicide loss and those affected by suicide
There are local chapters in all 50 states with programs and events nationwide. All of their chapter volunteers organize creative fundraising events for their entire community and form friendships and bonds along the way. Each event is a platform to change the conversation about mental health and discuss how people experiencing difficulties can receive life-changing (and saving) assistance. As advocates for suicide prevention, the AFSP members learn about risk factors, statistics, and treatment options to share with others. Their goal to prevent unnecessary loss of life is rooted in the very heart of humanity and charity.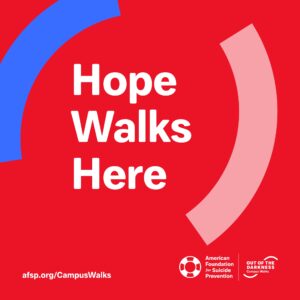 One of the most popular and attended events is the Out of Darkness Walk. These movements are held in hundreds of cities across the country, and they give people the courage to open up about their own struggles or loss. Thousands of people raise awareness and funds that allow the American Foundation for Suicide Prevention to support their core strategies to invest in new research, create educational programs, advocate for public policy, and support survivors of suicide loss. The organization's flagship Walks raise hundreds of thousands of dollars for their cause (the Traverse City Walk was aiming for $150,000). As AFSP's largest fundraiser, the walkers across the country together produce millions of dollars for suicide prevention programs. They unite those affected by suicide and create communities that are cognizant of mental health's importance. The AFSP recently celebrated 30 years of service to the suicide prevention movement, and their growth and impact have been remarkable and measurable.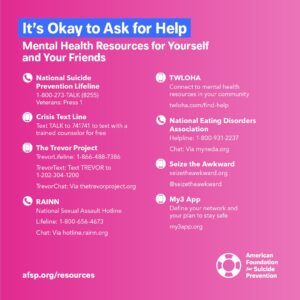 Due to the efforts of volunteers, walkers, and donors, AFSP has been able to set a bold goal to reduce the annual suicide rate by 20% by 2025. In 2018 alone, 48,344 Americans died by suicide. On average, there are a horrifying 132 suicides per day. Research shows an alarming increase in total suicides every single year (and that was before 2020's pandemic). If the AFSP reaches its inspiring goal of a 20% reduction in suicides, nearly 10,000 lives could be saved annually. The American Foundation for Suicide Prevention's goal is beyond worthy and is a wonderful organization to get involved with to help others or help yourself.
Visit afsp.org/chapters to find your local chapter and read about upcoming events or online activities.