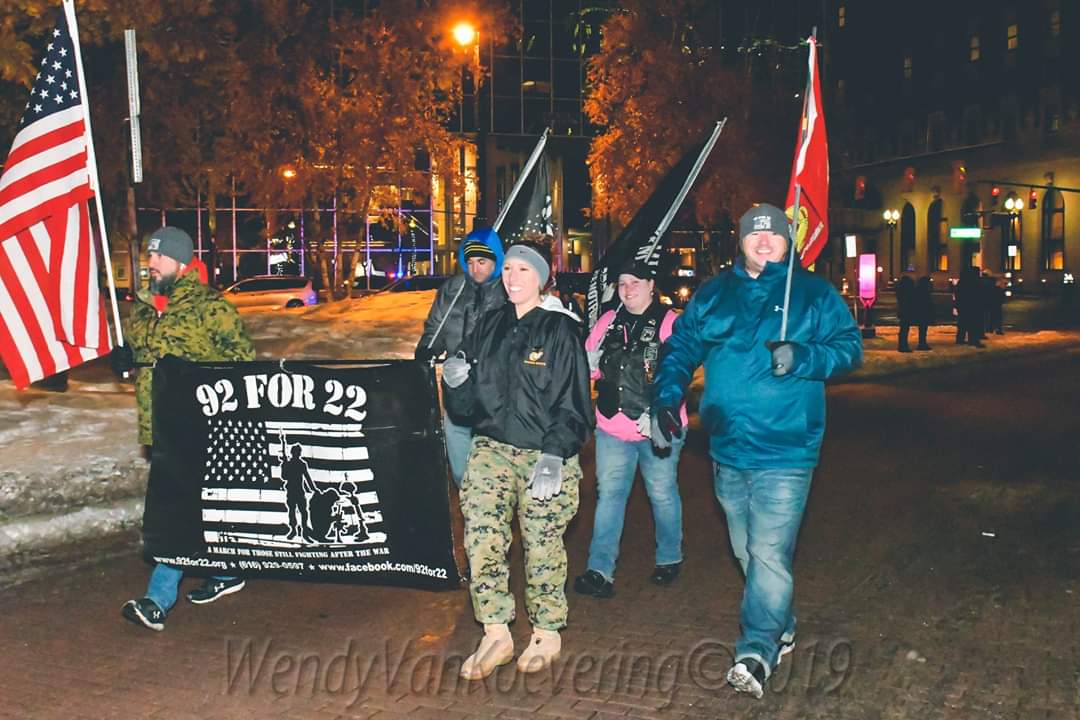 92 for 22 – Fighting for Those Who Fought for our Country
"22 veterans commit suicide every day. That's 22 too many," declare the members of the volunteer group 92 for 22. The team works to eliminate that statistic, explaining that their goal is to stand behind and fight for those who fought for our country. "If we don't, who will?" they ask.
The statistics are grim. With one in five veterans diagnosed with PTSD, the effects are lasting and damaging beyond words. The suicide rate has increased 150% among veterans since 2001, with 30% of all veterans admitting considering suicide. On average, 22 veterans commit suicide per day. That's one life lost every 65 minutes.
The good news? There are countless people working to bring that number down.
92 For 22 originated in Michigan, April 2017, when a group of veterans decided to walk the White Pine Trail. It runs 92 miles from Comstock Park to Cadillac, Michigan. A total of 11 veterans participated in the first walk and raised $6,644. These funds were donated to Help For Our Disabled Troops, a 501c3 nonprofit organization that adapts homes for injured Veterans as well as helping with therapeutic accommodations.
The initial walk proved inspirational for everyone involved. The idea grew to create their own nonprofit to help veterans in need. Their second walk raised over $9,000 and went towards helping one veteran get a car, and provided another with household appliances and furniture so he could get back on his feet. Their goals and vision grew, and they set a mission to reach more veterans and their communities. By bringing awareness to others about the struggles that veterans have, they hope to keep this subject top of mind. The vision of 92 For 22 is to raise enough money to purchase property to build an environment that offers outdoor recreation and therapeutic experiences focused on helping veterans with post-traumatic stress (PTS) and traumatic brain injuries (TBI) and their families.
As a march for those still fighting after the war, the nonprofit selected their name from their biggest annual event. The 92 represents the length of the walk, and 22 is in honor of the 22 veterans a day who take their own lives. "We want to raise awareness about veteran suicide because not everyone knows the signs or what to look for," says Chief Executive Administrator Brad Stinson. "We veterans are stubborn by nature!" he adds with a laugh. "We are not going to reach out for help, but we accept help if it's offered to us. We lean heavily on family members, because they've seen the changes in the veteran. But there's a bond between veterans that cannot be broken. At the end of the day, we respect each other, and there's a love and a connection that's very hard to articulate. We can relate to other veterans on a different level than even family members can."
92 for 22 is based in Michigan, but their outreach and communication options are growing.
"If a veteran wants to talk from anywhere, we're here," they promise.
"Everyone's transition is different, but the more we share about our own experiences, the more people we can help together," Brad says.
Whether through volunteering, becoming a community partner, or simply donating, there are many ways to help us accomplish the mission for 92 for 22, and doing a small part in bringing the number of veteran suicides to zero.
To learn more, visit 92for22.org